30 May, 2013
Bahrain: Ten Arrested Without Warrant, Feared Tortured, After Alledged Blast
30 May 2013
The Bahrain Center for Human Rights expresses its grave concern over the authorities' arbitrary arrest of 10 people in Bani Jamra village at dawn, without warrants, after the alleged blast in the area. The BCHR is seriously worried that these individuals will be subjected to torture and ill-treatment in order to extract forced confessions.
On 29 May 2013, the Ministry of Interior posted on its twitter account that 7 policemen sustained injuries in a blast in Bani Jamra village. Bani Jamra was immediately locked down and no one was allowed in or out of the area. The security forces started their usual house raids at dawn, terrorizing the citizens of the village and arresting people without warrants. Ten people were arrested last night during house raids without warrants.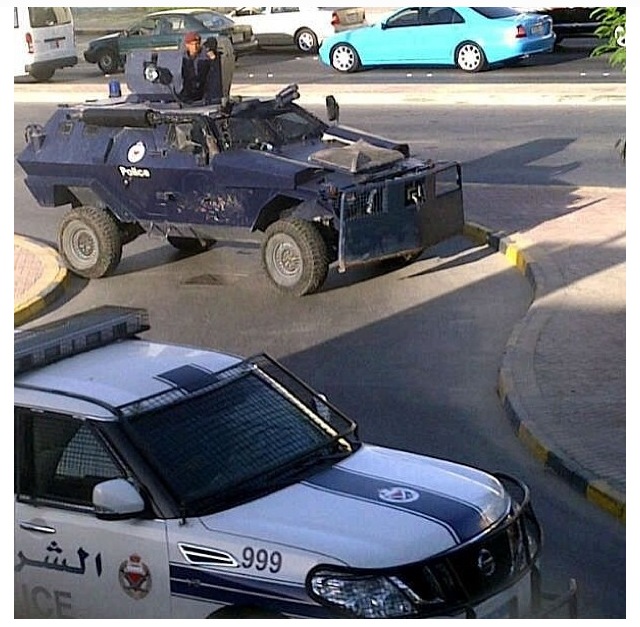 Photo: The police presence in Bani Jamra village.
The BCHR is seriously concerned over the wellbeing of the arrested persons and the high probability that they will be tortured into signing confessions; this has been the case in each of these alleged evidence-less terrorist attacks on policemen which have been very common recently. Until now, no evidence or photos have been published of the incident by the Ministry of Interior, the only further detail provided was by the Director-General of the Northern Governorate Police, who added that the alleged blast was caused by a homemade bomb (http://www.policemc.gov.bh/en/news_details.aspx?type=1&articleId=18581).
The BCHR calls for an independent investigation into the incident and more evidence to be provided to the public. The BCHR believes that all people's human rights should be respected, including those suspected of crimes and arrested, and that no one should be subjected to torture, beating, humiliation or any kind of ill-treatment. Everyone should have a right to due process and a fair trial.
The Bahrain Center for Human Rights calls on the international community and the governments of the US, UK and other close allies of Bahrain to put pressure on the Government of Bahrain to immediately:
Ensure that those arrested are not subjected to torture or any form of ill-treatment
Allow them to contact their families and lawyers
Put an end to illegal house raids, arbitrary arrests and detainment without a court issued warrant
Launch an independent investigation and provide evidence of the incident
27 May, 2013
Bahrain: Urgent Appeal: Forced Disappearance of Activist Who is Threatened with Murder
27 May 2013
Activists and tweeps broadcast a sound recording of 'Redha Al-Ghasra's' torture during his arrest, and regime loyalists broadcast a photo of him being arrested
The Bahrain Center for Human Rights expresses it deep concern over the continued targeting by the authorities in Bahrain of activists who demand freedom and change, and the prevalence of forced disappearances among those who are arrested. The security forces arrested on Friday morning, 24 May 2013, Redha Abdullah Isa Al-Ghasra – 25 years old – who was wanted by the authorities and who had succeeded in hiding from the security forces, especially the two officers Yousif Al-Mannaie and Ebrahim Habib Al-Ghaith who have reportedly made several threats against Al-Ghasra and his family with murder if he is arrested; this is according to the testimonies from the detainee's family. No official information was received about him regarding his arrest at the time of writing this report.
Details of the incident began when activists and tweeps broadcasted on their twitter accounts a sound recording of someone moaning of pain, which they claim was a voice recording of the detainee Redha Al-Ghasra while the security forces were reportedly beating and torturing him on the street (see: http://www.youtube.com/watch?v=jxZuVSbPeXQ). While accounts of Bahraini government loyalists broadcasted photographs of Al-Ghasra while he was handcuffed and lying on the ground, blood flowing on his face (see: https://twitter.com/Deertybhr/status/337845219053674496). Another account from an individual affiliated with the Bahraini regime broadcasted a photograph of the detainee Al-Ghasra and beside it a photo of a gun, which he claimed the regime forces had found with Redha Al-Ghasra during his arrest (see: https://twitter.com/Jalad_Almajoos/status/337850467973468160). Eye witnesses stated that at 7:30 in the morning on Friday 24 May 2013, civilian cars surrounded Al-Ghasra who was riding his motorcycle and arrested him in a brutal manner and took him to one of the unofficial torture centers, known as the 'cavalry'.
The family of the detainee Al-Ghasra stated that they have been intensely targeted – their home was reportedly subjected to 70 house raids between March 2011 and May 2013. The last of these house raids was on Saturday 11 May 2013. The area of Bani Jamra, west of Manama, was surrounded – including Al-Ghasra's residence – from 9 o'clock at night until 2 o'clock in the morning. The Ministry of Interior announced on Twitter that 'while a security patrol was carrying out its duties in Bani Jamra, its members heard gunfire from an automatic firearm, and that investigations are under way' (see: http://manamavoice.com/index.php?plugin=news&act=news_read&id=13211). Al-Ghasra was arrested in May 2011, and was released in August of the same year. Al-Ghasra faces charges that could put him in prison for up to 41 years in various cases in which the Public Prosecution alleges that he assembled and detonated a bomb, in addition to starting fires; he is awaiting a verdict. Since his arrest in April 2012, the government's targeting of Al-Ghasra has reportedly started to take a more serious turn than before where he and his friend – Aqeel Abdul-Mohsen - were targeted with a gunshot from a close distance that led to his injury in the shoulder while his friend's face Aqeel was dramatically injured (see: http://manamavoice.com/index.php?plugin=news&act=news_read&id=11436). On Wednesday 29 May 2013, the Court will look into one of the cases of illegal assembly against Redha, however it is not known if will appear in the courtroom given the state of his forced disappearance.
Redha is not the only one targeted in his family, his brother Yasser – 23 years old – has been detained and sentenced to 37 years in prison in 4 different cases; other cases are still pending against him. Although the Ministry of Interior claimed that he escaped from prison, his family stated that they have not received had any information about him for a long time. Additionally, a younger brother Sadiq – 19 years old – was sentenced to 26 years in prison in 3 different cases, and awaits a verdict in seven othe